Aug 23, 2015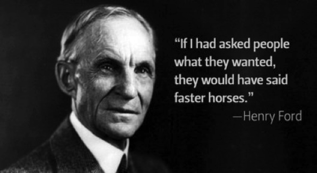 One of the most interesting dynamics I've observed in teaching marketing research is the love-hate relationship students have with self-report. On the one hand, people seem to instinctively bristle at self-report data, whether they are focus groups or surveys (or in recent years, twitter).
These days, the sentiment is captured most famously by Steve Jobs, who once said, "Customers don't know what they want." Of course the actual sentiment goes back much, much farther. One of my favorites is from Henry Ford, who said, "If I had asked people what they wanted, they would have said faster horses."
On the other hand, when it comes to actually doing marketing research, I would say that more than 90% of the students use and rely heavily on self-report measures. And you know what, for the most part they turn out great!
So what's going on here? Are we instructors just great at indoctrinating students? That'd be a great skill to have, but what's actually going on is that the students gain a more nuanced appreciation for what self-report can and cannot tell us. If we parsed Ford's statement a bit more, we can actually generate two insights (or more realistically, hypotheses). One is that people want something faster (okay, not exactly earth shattering news), but the second is that people are bound up in the past, and have little insights into how to actually deliver these features. To a savvy entrepreneur, this should raise all sorts of interesting additional questions about challenges and opportunities in introducing a new product.
Of course, not everyone has taken a marketing research course, and not market researchers still have considerable difficulty in convincing people of the validity of their insights. The good news though is that (i) my job is safe for a while, and (ii) there's plenty of room for improvement.